To transform a classroom to a personalized learning environment is challenging. First, you need to know what personalized learning means. Last night I was fortunate to be part of a panel on personalized learning for the
Future of Education
hosted by Steve Hargadon with Kathleen McClaskey, Lisa Nielsen, and Shannon Miller. All of us are in agreement that it is all about the learner and that student voice and choice is necessary to personalize learning. Personalized learning is all about the learner, starts with the learner, and means the student drives their learning.
What does Student Voice and Choice mean?
Student voice is difficult to hear in a traditional classroom where the teacher provides direct instruction and curriculum that is either provided for the teacher, adapted by the teacher, or designed by the teacher. Student choice means students choose how they learn something and, possibly, what they learn. This chart (
Personalization vs Differentiation vs Individualization
) shows how personalized learning is different than differentiated and individualized instruction. In the latter two approaches, the teacher adapts or customizes the instruction to meet the needs of either a group of students (differentiation) or for an individual student (individualization).
In these situations, there is little or no student voice. These are mostly teacher-directed. Students may participate in projects and take responsibility for specific roles within a project, but, in most cases, the teacher determines the topics, roles, and responsibilities. Project-based learning (PBL) has students collaborate and produce an end product together. However, to personalize PBL, the student has a voice in the design of the project and possibly, the process.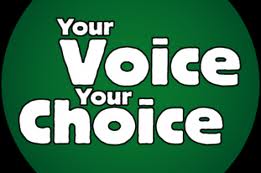 What if you take one topic that you love to teach but you just cannot get your students motivated to learn about it? What if they just don't seem to understand the topic no matter how many times you've taught it? Some get it. Some don't. So what can you do to motivate students so they are engaged in learning and want to explore the topic?
Ten Steps to Encourage Student Voice and Choice
Introduce the topic and share the standards that are normally met with typical instruction.
Determine prior knowledge by using a poll, then having students share what they know in small groups, and then sharing out to the whole group one thing they learned about the topic they didn't know before.
Show a video or other type of media presentation about the topic. If you know a personal story that might hook your students, share it.
Share how you normally taught that topic and invite them to help you redesign how you teach the topic. Tell them you want them to have a say in redesigning how they learn, what the classroom will look like, and your role as a teacher. Let them know that for this topic, your going to need their help in coming up with the questions, that they will be able have a place in the class and online to ask questions, ask for help, give feedback, and maybe help others in the classroom.
Brainstorm questions about the topic with the whole group. You can project your computer and use programs like Google Docs or a mindmapping tool like Inspiration or Mindmeister. The more questions, the better. Encourage students to use "how" and "why" questions. If they come up with one big question like "why is there war?", ask them to be more specific and come up with 2 to 5 more questions that take that big question deeper. Be sure to tell them that there are no stupid questions.
Ask students to work in pairs or small groups to select a big question about the topic they want to explore. Students can choose a group based on the question they want to investigate.
Ask groups to design how they want to answer the question(s) and demonstrate understanding of the topic and question they chose. Have them choose up to five supporting questions that they will also explore to learn more about their topic.
Invite each group to write a proposal on how they plan to demonstrate understanding, what resources they will use, how they will present what they learned, and how they will measure if they are successful. Each group can design a rubric to assess teamwork, research, presentation, and other criteria they determine necessary for success.
Ask groups to share their proposals with another group who can give them feedback. Then ask another group for feedback and approval. Your job is as guide and facilitator.
Give them enough time and resources to do the work they need to do. Watch the excitement of students immersed in the topic.
Watching students take responsibility by giving them their own voice so they are able to choose how they learn can be scary for teachers. But if you take a chance and try it, you will be amazed what happens. Just be open to some things not working the way you think they will work. You are giving up some control and letting students have more responsibility for their learning. Just watch and enjoy!