Let's look at three 3rd grade students with three different learner profiles and how they can meet one English/Language Arts Common Core Standard:
Third Grade Literature > Key Ideas and Details
ELA-RL.3.1. Ask and answer questions to demonstrate understanding of a text, referring explicitly to the text as the basis for the answers.
Each Learner is Unique
CAST
www.cast.org/
(Center for Applied Special Technology) states that common sense tells us that each learner is unique. Neuroscience takes into account how individuals bring a huge variety of skills, needs, and interests to learning. [
www.udlcenter.org/aboutudl/whatisudl
] Three primary brain networks come into play:
The "what" of learning: how we gather facts and categorize what we see, hear, and read. Identifying letters, words, or an author's style are recognition tasks.
The "how" of learning: planning and performing tasks. How we organize and express our ideas. Writing an essay or solving a math problem are strategic tasks.
The "why" of learning: How learners get engaged and stay motivated. How they are challenged, excited, or interested.
You can determine each learner's needs by using the UDL
(Universal Design for Learning)
Class Learning Profile
where you can understand their strengths, weaknesses, aptitudes, interests, talents and, yes, aspirations. Using the Class Learning Profile, teachers discover how learners can best:
access content information and what format that would include;
express what they know and how they could express it; and
engage with content.
The UDL
Class Learning Profile
is mostly used in a individualized learning environment where there may be one teacher to about six students instead of a traditional classroom with 20-30 or more students. However, the design of the Class Learning Profile provides more information about how each learner learns and when used with the combination of other assessments, a clearer picture of the learners in any classroom can be realized and be used for UDL lesson design in any learning environment.
Personal Learner Profile
Three Learner Profiles
The following profiles are about three fictitious students we created to emphasize how learner profiles can support different types of learners and help drive their learning.
John has a difficult time focusing on the text, is not able to write or speak descriptively, and is frustrated when writing his ideas down on paper. He is very comfortable with computers. He is good in math, is able to visualize numbers and patterns, but cannot sequence what is happening in a story. He does not know how to formulate a good question.
_____
Mary is a good storyteller who understands the moral and message of her own stories. She loves to write stories but has long term memory problems which affects how she recounts stories, characters, and plots of a story that she reads. She has trouble in math with visualizing numbers and patterns. Mary likes to talk, raises her hand even though she may not know the answer, and asks lots of questions yet many do not pertain to the story.
_____
Suzie is an avid reader and loves to write. She can write descriptively, likes to draw but is anxious when she speaks in front of others. She forgets the sequence, moral and message of the story when she is put on the spot. She has trouble in math with patterns and sequencing. Susie wants to ask questions but is uncomfortable voicing her concerns. She works better individually or in a small group and enjoys writing in her journal.
In a traditional classroom, third graders read or listen to the same literature and usually are asked to respond the same way to the text as everyone else in the class according to ELA-RL.3.1standard.
In a personalized learning environment, each third grader knows how they learn best and the best way that works for them to demonstrate what they know. To meet the standard ELA-RL.3.1, the teacher presents a story and offers multiple ways to read, listen, and respond to the story. To personalize the classroom, it can be set up with multiple stations so learners have choices how to learn and demonstrate understanding of a concept:
Station 1: laptop computers
Station 2: 2-3 tables grouped for collaborative work
Station 3: teacher area with places for students to sit (rug or bean bag chairs)
Station 4: individual area for privacy or journalling with mobile devices
Station 5: standing or pacing area (desks could be high without chairs)
The teacher reads the story to the whole class, invites students to read different sections, and/or includes the book in digital interactive format on the laptops or on mobile devices for students to read on their own during reading time. For this example, we will use the book, Miss Rumphius by Barbara Cooney. Here's a summary of the book from
Carol Hurst's Children Literature Site
: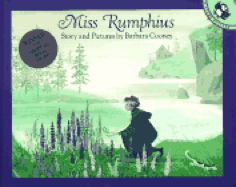 This beautiful picture book tells of the life of the author's great aunt Alice, now called The Lupine Lady. When she was little, Alice told her grandfather that she wanted to do as he did: go to far away places and live in a house by the sea. He told her that she must also do something to make the world more beautiful.
She accomplishes all she set out to do: traveling to tropical islands, climbing mountains before she hurts her back falling from a camel and decides to live by the sea. Her need to make the world more beautiful is a source of consternation to her.
Her solution of spreading lupine seeds wherever she walks is at first inadvertent – birds and the wind disperse lupine seeds from some she had planted in her garden before her bad back forced her into a semi-invalided life. When she sees new plants growing on nearby hillsides and cliffs, she spreads the seed herself after she feels better.
After reading the story, the teacher asks students to brainstorm questions that she writes on her interactive whiteboard using a mindmap like
Inspiration
. She asks students to pair with another student to come up with even more questions and then prioritize the questions so they eventually choose a question to write a response.
The moral behind Miss Rumphius is about values and making the world more beautiful. Each student may perceive values different based on their family and background. On her website
Teaching Children Philosophy
, Jenna Caputo provides guidelines for philosophical discussions and examples of questions about Miss Rumphius. The teacher can use some of these questions as examples:
Topic: Making the World More Beautiful
Miss Rumphius' grandfather tells her that she must make the world more beautiful.
What does Miss Rumphius' grandfather do to make the world more beautiful?
What does Miss Rumphius do to make the world more beautiful?
Is there a right or wrong way to make the world more beautiful?
Does making something more beautiful make it better?
Can you make a person more beautiful? Does that make a better person?
Now let's go back to our fictitious students: John, Mary, and Susie and how they may develop questions and respond to them based on how they learn best.
John reviewed his learner profile with his teacher where they determined that he needed help focusing and how to come up with questions or responses. The teacher paired him with another student, David, who really knows how to focus on a topic. David is not as comfortable with computers as John. They both signed up for the laptop station where John typed on Google Docs while David focused prioritizing the different questions until they came up with one question: "what would we do to make the world more beautiful?" Then each of them shared what would they do. John wasn't sure but David nudged him to think about his concerns about pollution, climate change, and too much stuff. John thought about this and his response led to planning a recycling center at school.
______
Mary
and her teacher went over her learner profile. They both decided for her to go to the teacher station. Her teacher could help her focus on the characters and setting of the story. The teacher set up a digital storyboard that included a set of visuals about the story. She then guided Mary to sequence the story visually so she was able to understand the story and generate good questions. Mary used a mobile device with the app,
AudioNote
to write and/or record her questions. She then shared the questions with two other students who helped her prioritize them. With their help, she came up with the question "how can I make our school more beautiful?" and her response was to design a butterfly garden outside of their classroom.
______
Suzie
's personal learner profile made it clear that she best works alone. The teacher showed her
Notability
that has the ability to draw, write, bring in pictures and create audio notes. She discovered that drawing first helped her write her questions in more detail. The teacher came by as Suzie was writing her questions and showed her how she could record her questions using Notability as a way to share her voice. Suzie felt uncomfortable speaking into the device so the teacher asked another student, Jane, to work with Suzie. They worked in a private area in the classroom with the mobile device and practiced going over the questions. Jane's strength was listening and repeating back what she heard. This was just what Suzie needed to hear: her questions and help with prioritizing them. She decided on the question "Does making something more beautiful make it better?" and to write a response to the question in the form of a story.
__________
When each learner and their teacher understands how they learn best, the learner is more involved in the learning process. The teacher designs a supportive learning environment that allows for each student to personalize how they access and engage with the content as well as how they demonstrate their understanding. This does not imply that students are grouped or taken out of the classroom. A personalized learning environment means redesigning the physical nature of the classroom and the teacher is more of a "guide on the side."
Universal Design for Learning is a registered trademark of Center for Applied Special Technology (CAST). Personal Learner Profile is a trademark of Kathleen McClaskey and Barbara Bray of Personalize Learning.